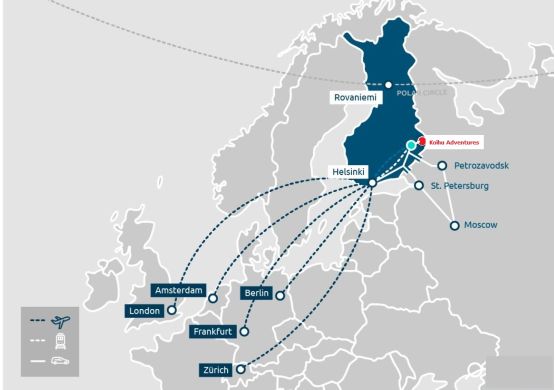 Wellkommen
Ilomantsi and Koihu Adventures Oy is located in the easternmost part of Finland, in a region called North Karelia. With more than 2200 lakes, this region is one part of Finnish Lakeland area. Our region is easy to reach via Finland's capital Helsinki. Joensuu is the regional hub of North Karelia, located approximately 400 km to the Northeast from Helsinki. Ilomantsi community where Koihu Adventures mostly operate is about 75 km from Joensuu. Below you find in short, how you can find your way here. We are happy to help you to find the best travel combination. 
By Car
Driving in Finland is easy and stress-free, there are no traffic jams and very little traffic in the rural areas. While moving by car you can stop by beautiful sceneries and visit interesting places along the way. From Helsinki to Ilomantsi it takes approximately 7 hours to drive.
Car rental services in Finland and Joensuu:
By Train
An eco-friendly and plesent choice to travel to Joensuu is by train. We recommend taking the train also for the sake of beautiful sceneries – you will be traveling along lakes most of the time. The travel time from Helsinki to Joensuu by train is approximately 4,5 hours. From Joensuu to Ilomantsi you can take either bus or book our transportation service. 
By Bus
By bus you can reach Joensuu from Helsinki and other cities. In Joensuu you can swich to bus going to Ilomantsi. 
By Plain
The regional airport is situated in Joensuu. There are currently two flights on a daily basis from Joensuu to Helsinki and back. On Sundays there are three flights from Joensuu to Helsinki and back. The easiest way to book tickets is on the airline's own website. The flght takes about 1 hour.